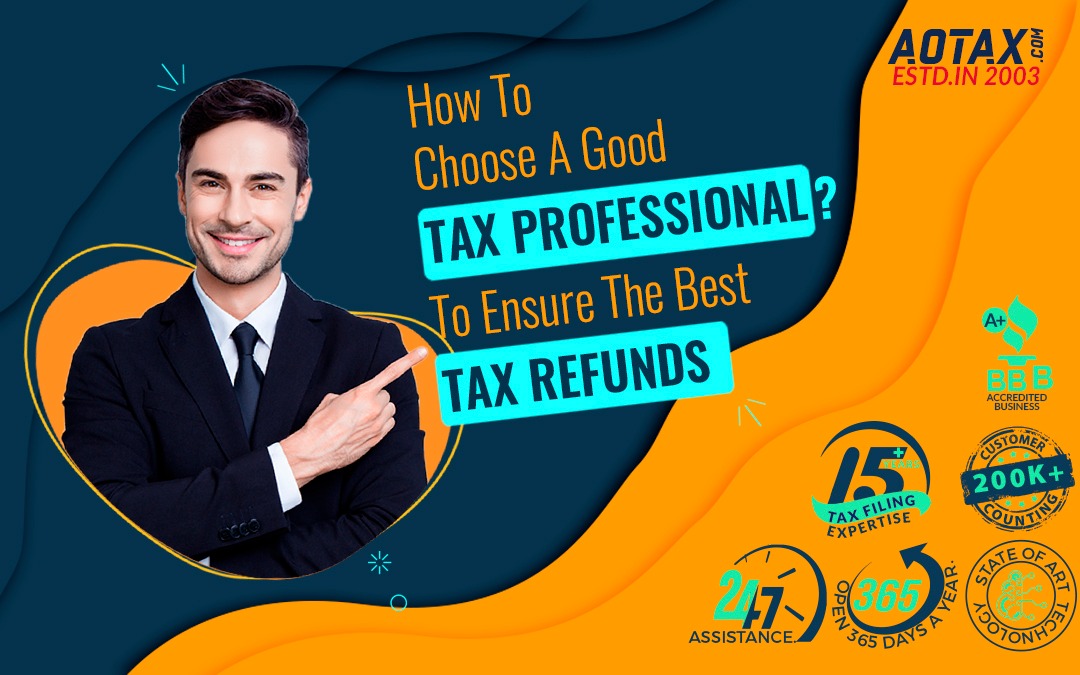 How To Choose A Good Tax Professional To Ensure The Best Tax Refunds
Taxes can be a bit overwhelming for a lot of us. Understanding the different clauses, making the most of the deductions, looking for refunds are just some of the things. In some cases, the tax filing can get quite a bit complicated as well. It is such times that Tax Professionals come to the rescue. Tax professionals or preparers are individuals trained and certified to handle taxes and help you through the entire process. A Good Tax Professional To Ensure The Best Tax Refunds.
Types of Tax Professionals
The first step towards choosing a good tax professional is to understand the different types of tax professionals around. And then make a decision as to whose services would be ideal for your scenario. The two categories of tax professionals that you can choose from are Enrolled Agents and Certified Public Accountants. And both of them have the capability of representing you in front of the IRS, should there be a need for it.
An Enrolled Agent or EA is a licensed tax professional. Individuals can earn the designation of EA either through a special exam or by working for the IRS for 5 years or more.An EA can have an area of specialization, thus do not forget to ask your EA about theirs. Another benefit of taking the help of an EA is that they are specially trained for taxes and will mostly cost you less than a CPA.
Certified Public Accountant
A Certified Public Accountant or CPA are accountants who have had to undergo an education program and pre-defined requirements to get the title. It is important to note that all CPAs might not have the expertise to work on taxes. One of the biggest advantages of taking the help of a CPA is that you might get ancillary helpfor other financial needs such as financial planning or estate planning.
Apart from EAs and CPAs, you can also choose tax attorneys and chains that offer tax preparation services. Tax attorneys are best known for handling tax related disputes which are complex in nature or corporate matters. You can avail of the services on offer by tax preparation chains such as Jackson Hewitt or H&R Block.
Finding Tax Professionals
Now that you know the different types of tax professionals available, the next step is to find out the right tax professionals. Getting referrals from a friend or someone you know is one of the easiest ways of getting a tax professional. Here are some other sources to get a good tax professional.
National Association of Enrolled Agents
You can visit the website of the National Association of Enrolled Agents and look for an EA. The website offers a lot of filters to make your search easy. Filters such as the area of expertise or the ability to speak multiple languages can make your life easier.
American Institute of Certified Public Accountants
The AICPA is a good place to look for CPAs who can help you with your taxes. Remember, these financial experts can offer a lot more than merely your taxes.
You can always refer to Yelp to find a good tax professional in and around you, who has a good rating. The local listings on the website can help you to get in touch with a tax professional.
Though this service is not free, you are more likely to find an authentic tax professional on the website. You get access to a wide range of categories such as financial assistance, tax professionals and reviews from local people to choose from.
Getting tax refunds is an outcome of proper tax filing. Choosing a good professional is essential as they can help one get the best tax refunds and save money.