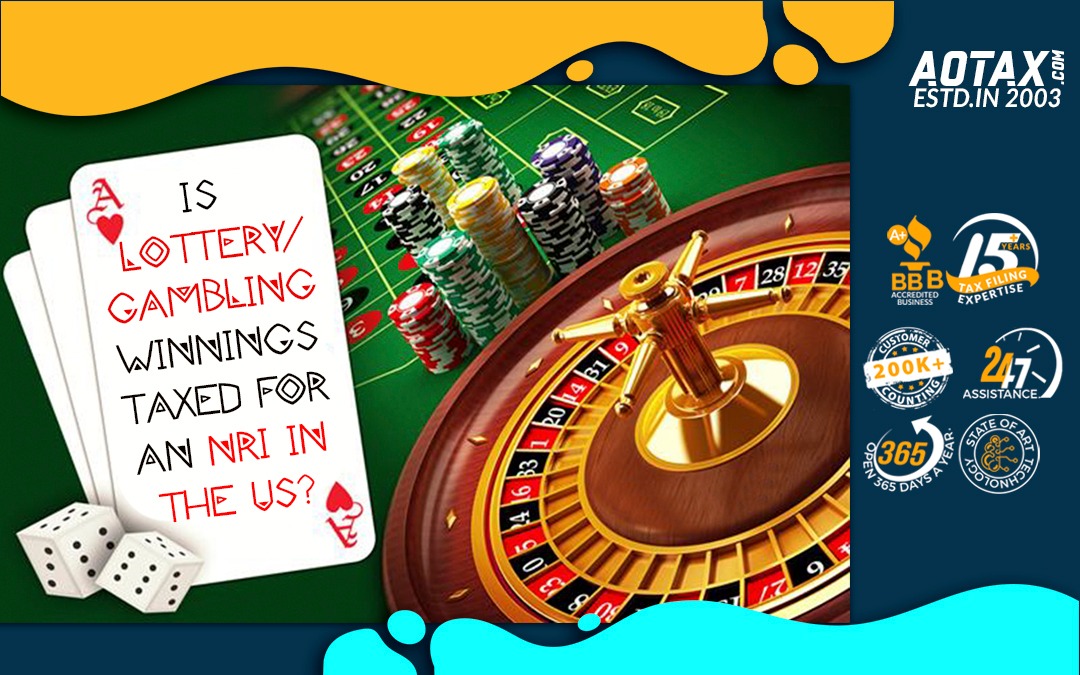 Is lottery/gambling winnings taxed for an NRI in the US?
It is hope that gets us to buy another lottery ticket or head out to a casino. Is Lottery taxes for an NRI in the US The hope that we might win the next lottery or hit the jackpot. If you have won either of them, first of all,congratulations. Before you start planning how to spend the amount, here is something that you must consider, taxes. The winning amount is taxable,but you choose how you wish to get the winning amount.
You can either opt for a lump-sum payout or as an annuity. Taxpayers usually have 60 days to decide the method and it has an impact on the taxes that you must pay to the IRS. If you have not won a lottery or winnings, it still might be a good idea to be aware of the tax implications. Here is all that you need to know.
Lump-Sum or Annuity?
Each method has its pros and cons. Should you opt for the payout as an annuity, you will be placed in a lower tax bracket and a fewer amount of taxes. The only caveat being, the taxes might go up in the future since you do not have any control over it. If the winning is relatively lower, you can opt for the annuity method.
Taxpayers who have won millions, taking the payout as a lump sum is a better option. While it might take a decent chunk of your winnings, you still getthe remaining money at a single shot. If you opt for an annuity, the lottery will pay only 4.5% of the total earnings per year. It will take a long time to recover the entire amount. It is recommended that taxpayers who take the lump sum reach out to a financial advisor to help them with the winnings. Putting the winnings at the right places will ensure you do not spend a lot of it rather earn more from it.
Taxes on Both the Methods
Should you go ahead with a lump sum payout, 25% of the total earning is withheld before making the payment to you. This amount is not the actual taxes that you owe to the government. Once you file Form W-2G, your total liable taxes will be calculated. And you will get to know the total taxes that you owe to the government in April.
And for the annuity method, each installment is taxed as they are handed over to you. Similar to lump sum payout, this is not the actual amount of taxes. Only when you file your Form W-2G, you will get to know the total amount of taxes that you owe to the government.
Depending on the state that you live in, you might have to pay state taxes as well. You must only pay federal taxes and no state taxes if you live in Florida, South Dakota, Texas, Tennessee, Alaska, New Hampshire, California, Nevada, Wyoming, Pennsylvania or Washington.
Minimize Your Tax liabilities
There are a couple of steps that you can take to reduce your tax liability when it comes to earnings from a lottery or gambling. For starters, you can donate some of your earnings to charity. You can then itemize your deductions and reduce your liability.
Alternatively, you can gift a portion of the earning to friends and family. As per the law, you can gift up to $15,000 per person before the gift taxes come into the picture. And lastly, you can create a trust and put your money in it, which will reduce estate taxes should anything happen to you.
Knowing the tax liability for lottery or gambling will ensure that you do not get a surprise in April during the filing of taxes. Being aware will help you better plan your taxes.
Reference:
https://www.taxslayer.com/blog/winning-lottery-taxes/
https://blog.turbotax.intuit.com/income-and-investments/how-are-gambling-winnings-taxed-8891/