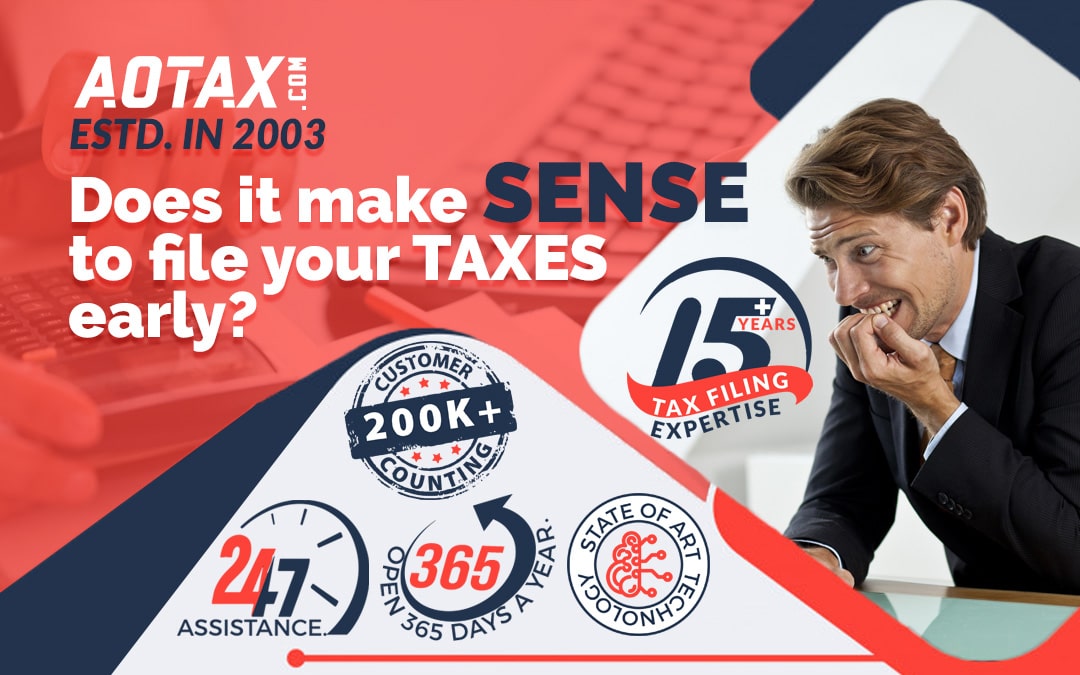 Does it make sense to file your taxes early?
Filing taxes can be a bit boring and overwhelming. Apart from your life and work, you need to devote some time and energy to file your taxes early. A lot of taxpayers barely are able to file their taxes on time, let alone before time.
What if there are some strong reasons and benefits for filing your taxes early? Would that pull you into the idea of filing your taxes early? If yes, here are some of the most prominent reasons why you must seriously consider filing your taxes early.
1.To Avoid Missing Out On Tax Benefits
Usually filing your taxes at the end means, that you are running against the clock. In such cases, the chances of missing out on some information are quite possible. A common mistake made by taxpayers filing their taxes in the end if using a wrong SSN or forgetting to mention their SSN, or their dependent children's SSN or spouse's SSN. Missing out on SSN is a sure way of missing out on certain tax deductions and tax credits.
2.A quicker Tax Refund
When you consider data from the previous years, you will find out that about 72% of taxpayers receive tax refunds up to $3,000. That is a decent chunk of money that you can use as rainy-day savings or paying off some debt. Filing your taxes earlier allows for a quicker tax refund.
3.Possibly Bigger Refunds
When you file your taxes early, you can benefit from certain life changing milestones. Milestones such as marriage, or the birth of your child, starting your own business, etc. can translate into better tax refunds or deductions. Which ultimately will help you save money. Thus, filing your taxes early can be beneficial.
4.Debt Management
In the event that you are struggling with some of the debts, opting for an early tax filing can save the day for you. The IRS expects to issue tax refunds within 21 days of your filing tax returns. The earlier you file your taxes, you boost the chances of an early refund and thus, it can help you manage some of your debts as well.
5.Leverage Your Time and Money
When you file your taxes early, you are firstly not under any pressure of filing them before the deadline. It enables a smoother filing. Secondly, the chances of mistakes are also minimal, thereby allowing you to spend less time on tax filing. And more importantly, you can expect an earlier refund as well. You can then use these funds either for a quick trip while your friends and colleagues are busy filing their taxes or use them for other purposes.
6.File Taxes Online
Once you have made up your mind to file your taxes early, you can visit online portals to help you file your taxes. There are a lot of trusted portals, which can help you file your taxes within a few minutes. All you need to do is provide some basic information and answer simple questions. The portals can help you extract the most out of your refunds as well. And the best part is, you can do this from the comfort of your home or office or even while you are vacationing. If you need additional help in the form of an Enrolled Agent or a CPA, the portals would be able to help you with that as well.
Apart from the most obvious benefit of peace of mind and no stress during the tax filing season, the above are some of the other benefits of filing your taxes early. If you have never filed your taxes early, now might be the best time to give it a shot and reap its benefits.
Reference
https://blog.turbotax.intuit.com/tax-refunds/6-reasons-it-pays-to-file-your-taxes-early-19100/