Covid-19 tax implications for the unemployed NRI's in the US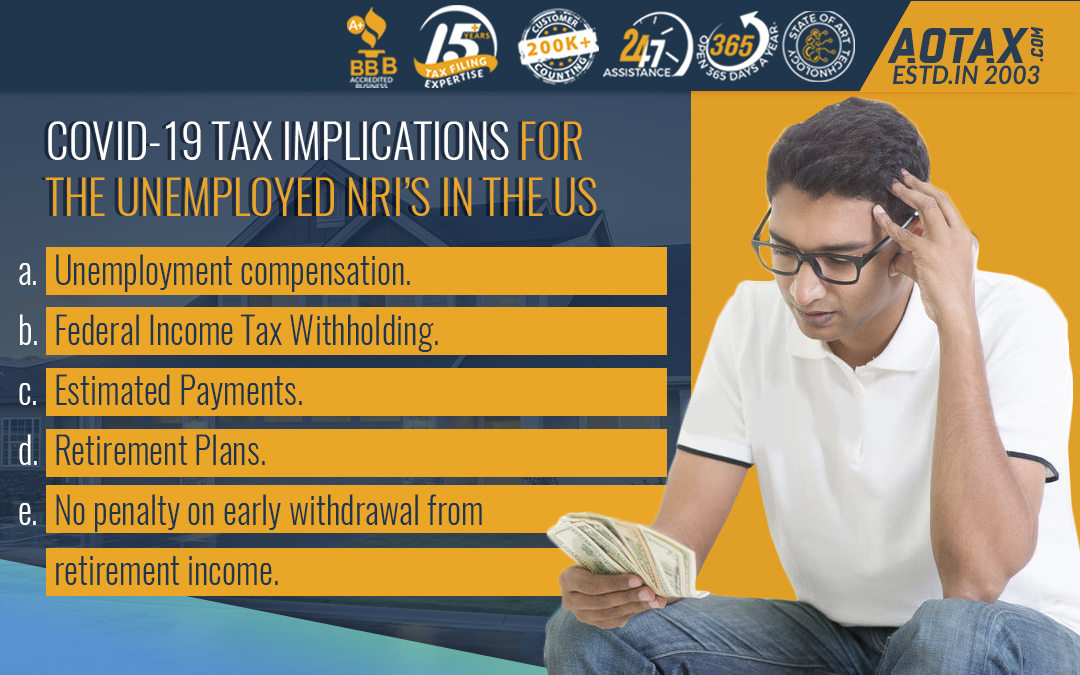 The pandemic COVID-19 has led to a complete economic setback across the United States. Many businesses have been closed down some partially and some completely. Millions of Americans have become unemployed and are facing various financial crises. The US Government has provided various tax reforms to alleviate the economic stress faced by the Americans during these challenging times.
Let us talk about some of the major tax implications for the unemployed NRIs during this distressful COVID period.
Unemployment compensation
For Income Tax, the unemployment compensation offered is taxable. This would include the unemployment benefits obtained from State and the $600 which has been received from the Federal Government. You will have to inform us about this total amount received on Form 1099-G. You must spend your benefits after considering the consequences.
Federal Income Tax Withholding
To avoid surprises, you can opt to choose for Federal Income Tax Withholding from your unemployment benefits obtained during the year. This process would be almost similar to withholding on from your paycheck thus; you would owe less at the tax time.
Estimated Payments
You might be feeling that you would owe more at the tax time; to avoid this you can make estimated tax payments throughout the year. You can keep on making estimated tax payments throughout the year and thus, avoid a potential penalty. Moreover, the IRS has waived any penalty and interest on the tax payments which were due on 15th April 2020 which was later on extended to 15th July 2020.
Retirement Plans
Any withdrawal which you are making from your retirement plans or pension plans is considered to be taxable unless they are being transferred to an IRA. Under the provisions of the CARES Act, this tax is not due at once. You can make the payment of this tax in three years. You must check with a tax advisor if you are planning to make a withdrawal from your retirement plan as the taxability of the retirement income can be complicated.
No penalty on early withdrawal from retirement income
In general, there is a 10% early withdrawal penalty on making any withdrawal from your Retirement account before you reach the age of 59-1/2 years unless it is an exceptional case. However, this year you are eligible to withdraw up to $100,000 from your IRA or 401(k) plan without having to pay any penalty. But, you will have to pay Income Tax on the withdrawal you make in the form of Retirement Income or Accrued benefit.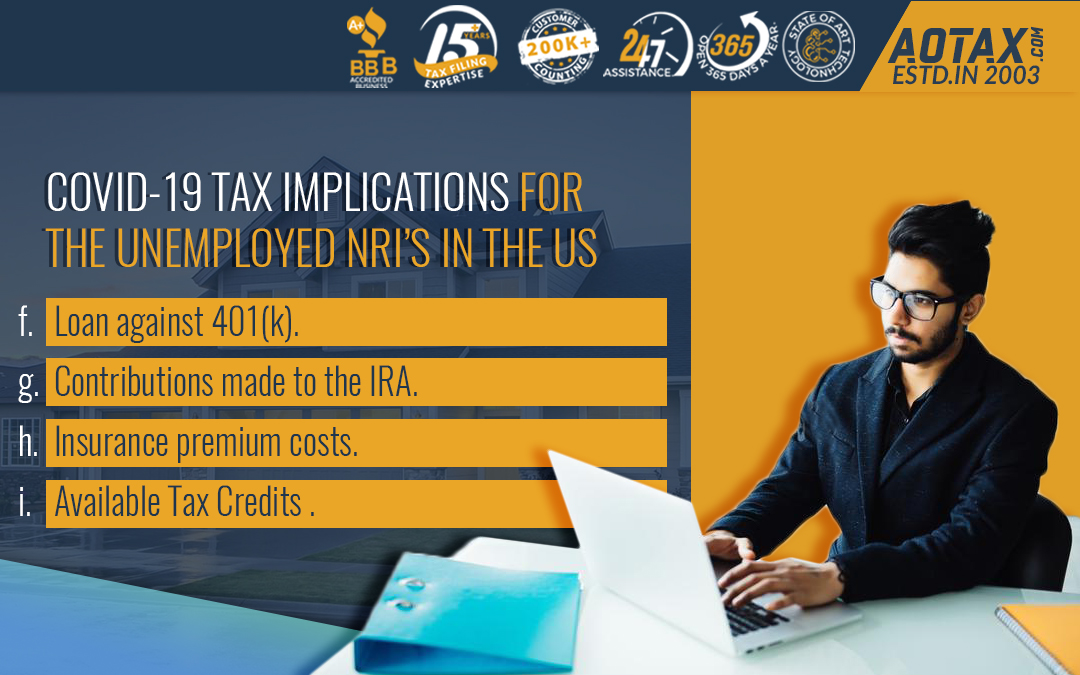 Loan against 401(k)
If you need extra cash, you can take a loan against your 401(k) plan. You would be able to borrow up to 100% of your account balance or $100,000, whichever is less. At the time of re-payment, you would be able to defer the payment and pay back the loan in five years without any taxes applied. However, you must check with the authorities before opting for this as the implications might vary for different plans.
Contributions made to the IRA
If you have made any contributions to your IRA and now to need the money back, you can avail of this benefit as well. The contributions made to the IRA if returned before your date of tax return filing can be withdrawn without paying any penalties. You are eligible to take out the contribution and any dividend which has been earned. However, even if you make the contribution back you will not be able to claim a deduction for the contribution made initially on your return.
Insurance premium costs
Now since you are unemployed, you will be responsible for making the payment of your health care costs. So, you are eligible to deduct the cost of the health insurance premiums including the COBRA costs as the Medical expenses. You can include the costs related to these premiums and other eligible medical expenses on Schedule A when you itemize your deductions. However, you should keep in mind that only those expenses are deductible which can exceed 10% of your AGI i.e. Adjusted Gross Income. Moreover, you can also use the money from your HSA (Health Savings Account) for making the payment of the medical expenses. Even if you lose your job, the money present in the HSA is yours. 
Available Tax Credits
You should not overlook those credits for which you had not qualified when you were employed. In the previous years, your income might have exceeded the threshold for the Earned Income Tax Credit (EITC) but you would be eligible to avail the credit now. If you meet the Earned Income Restrictions and other criteria now you can obtain the credit.
Conclusion
So, even if you are unemployed there are several methods by which you can avail of certain benefits, credits. You must resolve any queries which you have about the credits and deductions so that the tax which you owe can be reduced.