Top things to remember during the holidays & as the 2021 tax season approaches.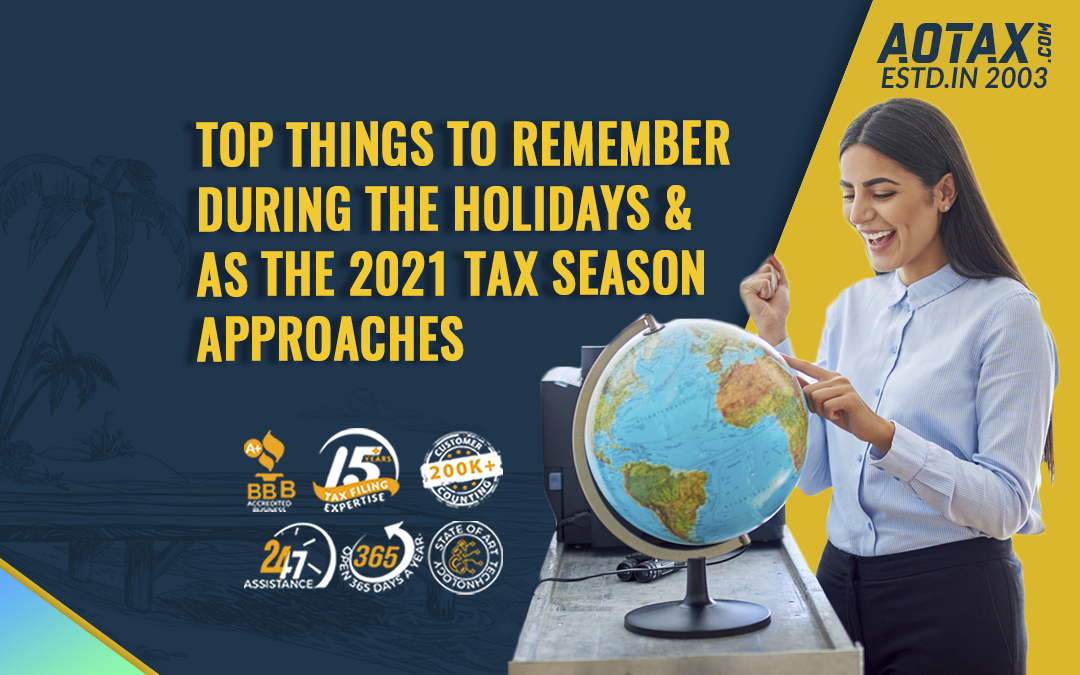 The current season is a combination of the holiday shopping season, the upcoming tax season along the concerns related to coronavirus.  The Internal Revenue Service (IRS) and the Security Summit partners have jointly issued warnings to the taxpayers as well as the tax professionals to be very much aware of the tax scams and any other identity theft schemes by criminals.
The IRS and the other State Tax Agencies have opened up the National Tax Security Awareness Week. This coincides with Cyber Monday which is the start of the holiday shopping season. The combination of the holiday shopping season and the tax season along with the current trend of working remotely due to coronavirus has made the necessity for online security.
Common people can stop being prey to online thefts and scams if certain simple steps are taken for the protection of tax and sensitive financial data. The IRS, Tax agencies of the States, and the country's tax industry are together functioning as the Security Summit which indicates the beginning of the 5th Annual National Tax Security Awareness Week which provides security tips.
Let us have a look at some of the basic steps which everyone must remember as the holidays and tax season approaches.
Common people should never forget to use security software for their computers and cell phones. They must keep the software updated as well.
The antivirus in your device must have the basic feature of stopping the malware and also a firewall is present for intrusion prevention.
There are a large number of phishing scams occurring every day which would include any kind of imposter emails or calls. This is one of the best ways by which common people can avoid tax scams is by not opening any email attachments or links that are present in suspicious emails. This year with the Economic Impact Payment being incorporated due to the coronavirus scams and frauds are going to be a common occurrence.
For online accounts, you must use strong and unique passwords. The account holders can use Password Manager or use such words/phrases which can be easily remembered.
Whenever possible, people must use multi-factor authentication and authorization. Various email providers and other social media websites are offering this feature which is very helpful for getting protected against hacking.
If online shopping is being done, it should be done from a secured site whose address begins with "HTTPS" where S denotes Secure Communication while using a communication network.  Moreover, a padlock icon should be present in the window of the browse for security.
As a necessity for security, avoiding shopping from public places like malls where the Wi-Fi is unsecured.
The common people should ensure that their Wi-Fi at home is also secured with the help of a password. When more homes are connected to the web, it becomes important to have a secured system.
It is necessary to create a backup for your files on the computer and mobile phones. External hard drive or cloud service can be a very good option for copying data from either computers or phones thus, providing a good place for recovery of important financial data.
Due to the current scenario of the corona, most Americans are working from home. It is necessary for the creation of a Virtual Private Network (VPN) which would help in connecting securely to the workplace.
 Apart from these areas where security threats are a common scenario, another area that can be susceptible to security risk is mobile phones. Nowadays, those using smartphones are more susceptible to security risks as they can open a scam email using their phone more promptly rather than using their computers.  Since mobile phones are being used for various purposes these days, it is necessary to ensure that phones and tablets are secure means.
 Common people must always remember that the IRS would never call any person or send an email about Economic Impact Payment or any other tax refunds. The IRS would also never call about any threats of jail or legal complications in case of non-payment of taxes.  If any such call, email, or text is received then it is a scam.
 The Federal Bureau of Investigation has issued several warnings about frauds or other scams related to the pandemic COVID-19. These warnings are mainly about the schemes associated with taxes, healthcare fraud, testing of anti-body, cryptocurrency fraud, etc. Common people can file complaints related to tax fraud at the National Center for Disaster Fraud.
 Conclusion 
So, tax scams and frauds are a common occurrence these days and it is necessary to be alert about these scams. Awareness and caution among common people can help avoid tax scams during the upcoming tax season.