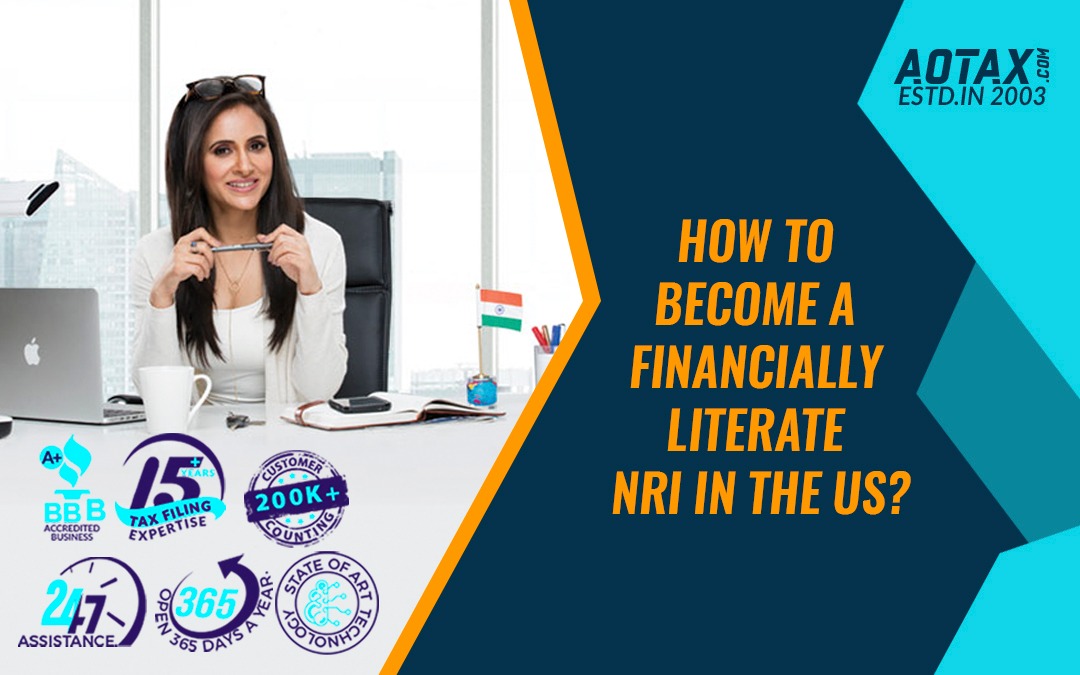 How to Become a Financially Literate NRI in the US?
To become financially literate NRI  means to be able to manage your money efficiently. It is basically the ability to clearly understand the concept of how money is made, how it is managed and invested, how it is spent economically. Precisely, financial literacy is the skill which lets you utilize your money efficiently and utilization of your money in accomplishing your long term financial goals.
Financial literacy is not a subject that is included in your school or college syllabus; rather it is a clear understanding of your personal debit and credit. This will need constant attention to your expenses and an urge to always sideline your income and expenses together.
Major components of Financial Literacy
The major five components which you can associate with financial literacy are mentioned below.
Creating a budget and maintaining that budget is an important concept of financial literacy. Without a proper budget, you will never be able to understand the whereabouts of where your money is coming and where it is being spent and you will end up in a financial crisis.
 It is an important concept and needs to be understood as it affects your finances in an intensive manner. This will help you in saving and also better utilization of your money.
For maintaining a healthy and stable financial life, saving is very important. This will inculcate the skill of looking towards accomplishing long-term goals in the future and planning present actions accordingly.
 Proper knowledge about debit and credit is needed to be able to handle finances diligently.
Beware of financial frauds
With the widespread use of technology in financial spheres like internet banking, online shopping, electronic fund transfer; your financial data is more prone to risks and should be protected.
When you are residing in a different country, you should have the basic financial literacy related to the financial sphere of that particular country. This will be helpful for you in utilizing your money, saving money and also investing in some useful avenues.
Tips to be a financially literate NRI in the US
Reconciliation of bank accounts regularly
You should make it a habit of going through your bank statement every month when they are sent to you by the bank. By this, you will know in detail about your income, spending and any diversion in a saving plan if you have one.
Utilization of financial tools
There are a large number of financial tools and applications which can help you understand the confusion associated with dollars. You can get to know in details about the income, debit, credit, etc. Moreover, financial tools will give you tips and suggestions on financial planning for improving your financial literacy.
Take online courses
There are numerous professional courses and sessions available online. You can enroll in these sessions and increase your knowledge of finances, NRI taxation policies, NRI tax saving methods, etc.
Make friends
You can join your friends from the US so as to increase your exposure. This will help you in understanding the various financial implications in the country, ways how money is utilized or saved in the US, taxation rules in the US, etc. With the help of online tools, you can have educational gatherings among friends where you can discuss finances and financial goals.
Be vigilant and aware
Since you are in at a new and unknown place now, you should be vigilant about your finances and security related to financial information. You can read books, visit libraries, watch online videos on finances, financial security and financial goals.
Hence, initially, you would definitely find certain differences and difficulties in understanding about finances at a new place. But you can start understanding the methods, rules and, laws gradually.  As an NRI, it is quite necessary for you to understand the finances of the US so that you tend to save a good amount or invest in good avenues.