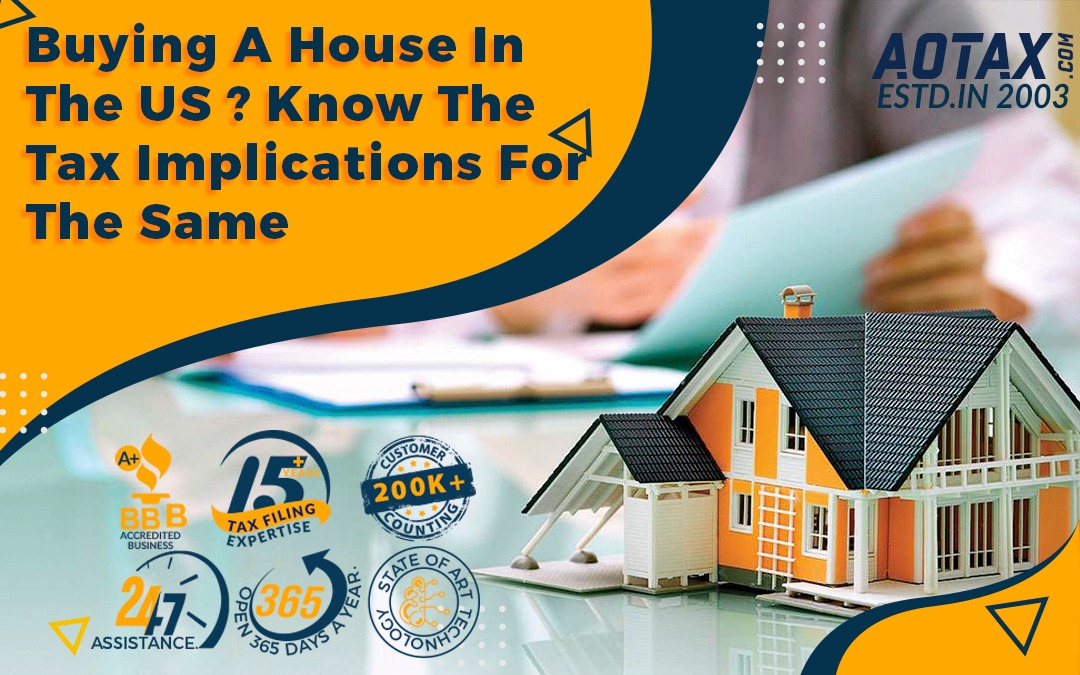 Buying A House In The US? Know The Tax Implications For The Same
Buying your own house is one of the major milestones during a lifetime. Each buyer has a different reason to buy a house, but there is one aspect that everyone benefits from. It's the taxes. On buying a house, you can get tax breaks which will help you reduce your tax liability.Being aware of the nitty-gritty and details will help you make the most out of these. Whether you already have bought a house or are planning to buy one, here are the tax implications that you must know.
Mortgage Payments Are Tax Deductible
Once you buy a house and start paying the mortgage, a portion of it goes towards paying the interests and a portion towards the principal amount. You might have to pay property taxes and insurance premiums to your mortgage provider as well. And when the time comes, they will pay it to the respective entity on your behalf.
As a general practice, you can take a deduction on the amount that you pay as an interest to your bank or lender for the mortgage. Also, you can deduct the amount paid as property tax to the lender in your tax returns as well.
However, a change in the rule now puts a cap on the amount that you can deduct as state or federal taxes, which includes property taxes from your returns. Post the amendment, you can deduct up to $10,000 only for property, income or sales tax.
Mortgage Insurance Premiums
Homebuyers who pay less than 20% as the down payment for their homes, may have to take the Private Mortgage Insurance. This cover is essentially recommended by the lender since they want to get coverage in the case of any default. You can utilize this insurance premium for a deduction, provided you itemize your deductions and the insurance was bought post 2006.
Taxpayers whose Adjusted Gross Income exceeds $100,000 would be subject to phasing out of deductions. As part of phase-out, a taxpayer must deduct 10% of the insurance premium paid for every $1,000 that exceeds $100,000. And the deduction is not applicable for taxpayers who have an AGI above $109,000.
Another important aspect to understand is that though standard deduction might be the easy way out, they do not offer a lot of benefits. Only when you itemize your deductions can you maximize your deductions. Here are the standard deductions just for your reference.
| | |
| --- | --- |
| Filing Status | Deduction |
| Single/Married filing separately | $12,000 |
| Head of a household | $18,000 |
| Qualifying widow(er) with a dependent child/Married filing jointly | $24,000 |
Buying A House For Tax Benefits
Given the tax benefits of buying a home, few taxpayers choose to buy a house just for the tax benefits. If you are planning for such a purchase, it is essential to be cognizant of a few things first. For starters, irrespective of how much tax benefits you receive, it does not make a lot of sense to overbuy a house. By overbuy, we mean buying a house that is completely out of your budget, so as to get tax benefits.
Sticking to a budget is important since you should be able to pay off the installments comfortable without adding a lot of financial stress on yourself. Once you plan and buy a house within your budget, the deductions come as a bonus and should not be treated as a primary reason.
If you have decided to buy a house in the US, you must consider the above tax implications and take a decision accordingly. And most important look at the economic side of things as well before signing the documents.
Reference: