All you need to know about the National Economic
Impact Payment Registration Day.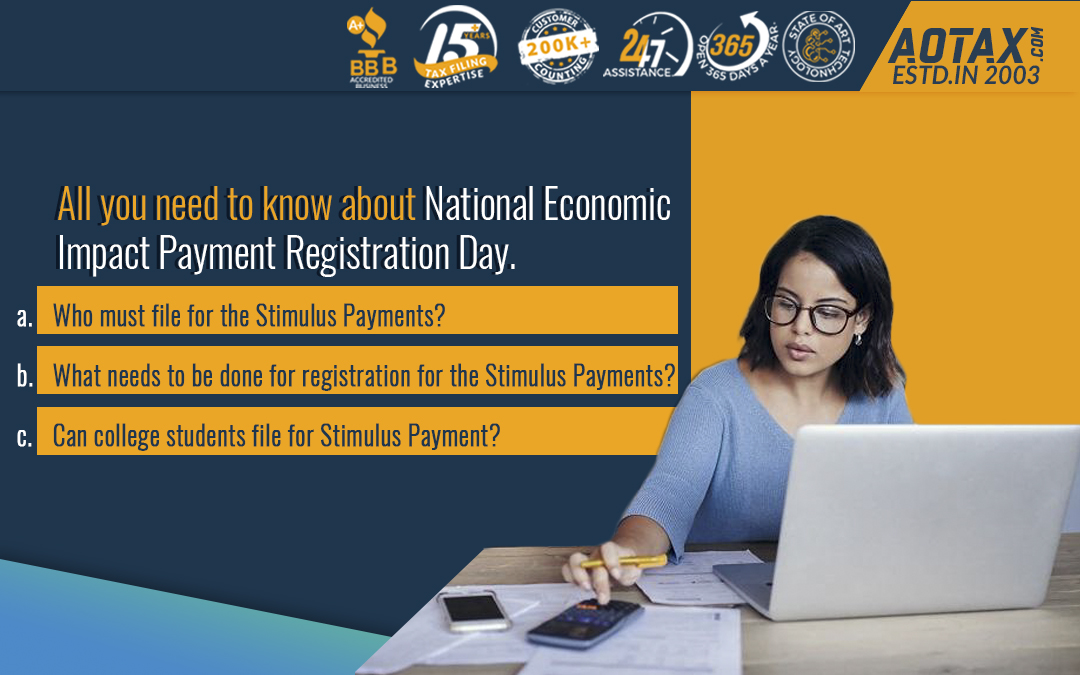 The National Economic Impact Payment Registration Day has been recently announced by the IRS. The IRS has set 10th November 2020 as the "National Economic Impact Payment" Registration Day. This day acts as the final push that would encourage those Americans who do not usually file their tax returns. The National Economic Impact Payment Registration Day is especially dedicated to spreading the word some days before the final extended registration deadline.
Those Americans who have not received their Stimulus Payment can register to receive so by 21st November 2020.
Who must file for the Stimulus Payments?
Most of the taxpayers in the US who are eligible to receive the Stimulus payment will receive it automatically. They would receive the Stimulus Payment based upon their recent tax filing of the year 2018 or 2019. They would also receive the payment based on being the recipients of Social Security Retirement, Railroad retirement, Supplemental Security Income (SSI), etc.  This would also include people who have no income or very less income.
What needs to be done for registration for the Stimulus Payments?
 According to the US Government reports, around 9 million eligible taxpayers have already received their Stimulus payment of $1200. These taxpayers may not be filing their tax returns in general. There are letters along with the 10th November event which would advise the taxpayers to use the Non-filers – Enter Info Here tool. This tool is available on the IRS.gov website and is helpful for the common taxpayers.    
Mainly, this tool has been designed for both couples and individuals. Single individuals who have an annual income below $12,200 and married couples who have an annual income of less than $24,400 and are not claimed as dependents by anyone else can use this tool. Moreover, the IRS Non-filers tool is also useful for those single individuals and couples who are homeless.
Can college students file for Stimulus Payment?
Any eligible college student who is self-supporting who does not file his tax returns and also did not obtain his Stimulus Payment from the IRS can get himself registered by 21st November for obtaining their Stimulus payment before the year 2020 ends. In case you are a self-supporting student registering for obtaining the Stimulus Payment and you are filing your tax returns as a single individual then he would be eligible to receive a Stimulus payment of $1200. Moreover, if the student is married and is filing a joint tax return then you would obtain $2400. Furthermore, in case you are having a dependent child then you would be receiving an additional $500 for each child who is eligible.
 Suppose, you are a student who must file a tax return then you must not use the Non-Filers tool. You would be able to claim the Economic Impact payment by Recovery Tax Rebate while you are filing your taxes for the year 2020. Those students who are self-supporting and do not need to file a tax return can use the Non-filers tool. In case, you have been working throughout the year and have taxes being deducted from your paycheck then you must file for a tax return even if you are below the income thresholds as defined by the IRS.
Conclusion
So, with the time running out the IRS encourages everyone who meets the eligibility requirements to register faster before the deadline of 21st November arrives.  In case, you are missing this deadline you would have to wait and then file a tax return next year in order to claim the payment in the form of Recovery Rebate Credit.