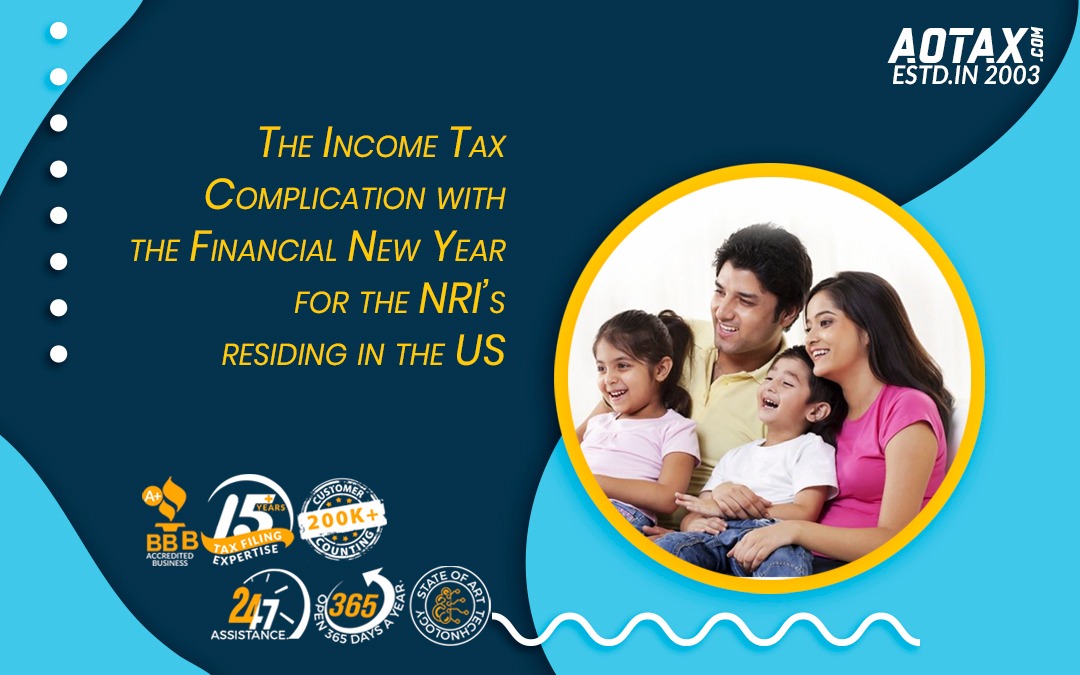 The income tax complication with the financial
New Year for the NRI's residing in the US
As India is developing rapidly, globalisation has resulted in more opportunities. Stronger economic ties with developed markets like the US has made many Indian's studies and work overseas. Such Non-Resident Indian's living in the US, juggle between two different tax jurisdictions. NRI taxation rules are completely different as compared to the rules applicable to ordinary Indian residents. Hence, the tax provisions for Non-Resident Indians are separately dealt under 'NRI taxation' section of Income Tax Act, 1961. NRI taxation involves the host of obligations and reporting requirements along with changing tax provisions each year which makes it quite complicated. With the beginning of the new financial year, NRIs residing in the US may have to face challenges or tax complications in below areas.
Determining tax residential status in India
Primary challenge for NRI wanting to undertake tax compliance is determining the tax residential status for the year in India. Residential status is classified as Non-Resident Indian (NRI, Resident but not Ordinarily Resident (RNOR) or Resident and Ordinarily resident for tax purposes depending on number of days spent in India. It could get quite complicated to understand the status.
An individual is deemed to be non-resident in India if any one of the conditions below is satisfied.
Your stay in India during the previous year is less than 182 days
Your stay in India during the four years immediately preceding the previous year is less than 365 days and you have been in India for less than 60 days in the previous year.
A resident individual is considered as RNOR, if any of the below conditions are not satisfied or only one of the below condition is satisfied.
You are resident in India for at least two years out of 10 years immediately preceding the relevant year
Your stay in India is for 730 days or more for seven years immediately preceding the relevant year.
Important thing to consider here is previous year is period of 12 months starting from 1st April to 31st March.
Income tax return forms
Which ITR (income tax return) form to use for filing is the next challenge that you would face being NRI. With the change in norms, NRIs are now required to use either ITR2 or ITR3 for filing income tax. NRIs with no business/profession income can file income tax in ITR2. ITR3 needs to be used if you have business/profession income to report.
Tax treatment of investments and income
For NRIs, only income earned in India is taxable. When it comes to understanding exchange control norms and tax implications on making investments, it's quite complex. To understand complex income tax provisions relating to income and investments in India comprehensively, it's wise to seek expert help. As income earned by NRIs is subjected to double taxation, it becomes imperative for NRIs to understand tax implications before making investment choices. Also, there are provisions to save tax liability to an extent which needs to be carefully understood. With the complexities involved and time constraints, liaising with banks and other financial institutions where investments are held also could get challenging.
Tax relief claims
After understanding the tax treatment, there are also many provisions available for saving tax liabilities which can be beneficial for NRIs such as Double Taxation Avoidance Agreement (DTAA). However, the process of claiming benefits under DTAA could be challenging as one needs to provide extensive disclosures such as overseas tax residency certificate. Tax identification number of home country and details of assets held abroad etc.
Conclusion
A strong economy needs more stringent tax regime for the increased development. As India is aiming towards strengthening economy, tax regimes are getting stricter and stringent. Understanding the taxation process and keeping yourself updated on change in provisions and norms can help you effectively adhere to tax laws and stay tax compliant. Being an NRI, seek help of professional experts to file income tax returns and plan your taxes for the year ahead efficiently.