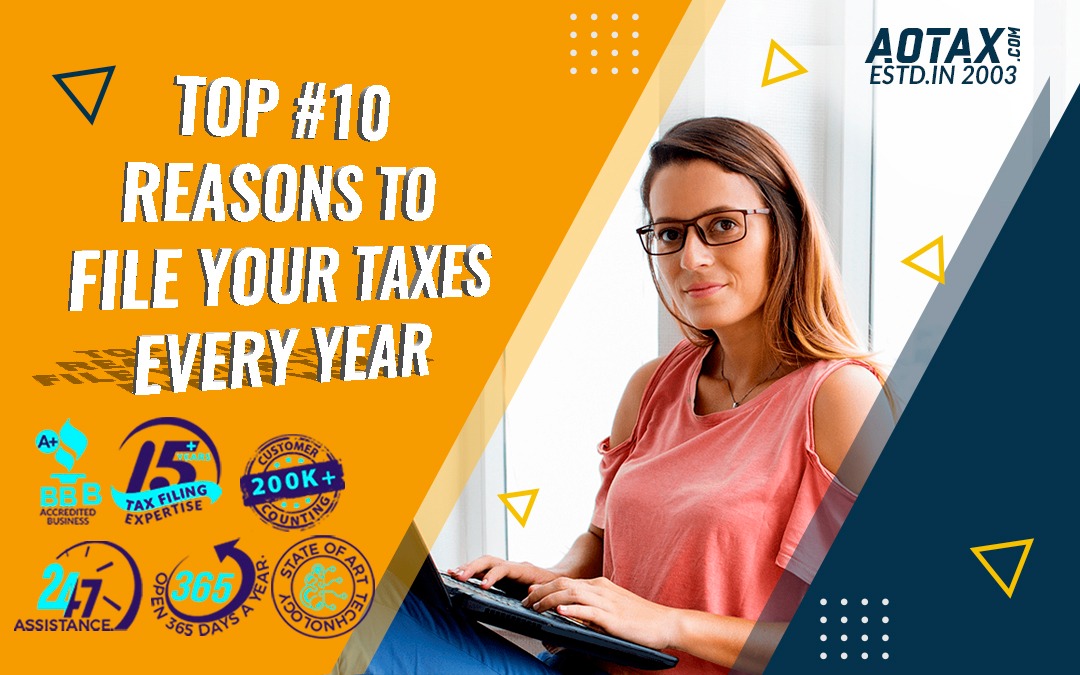 Top #10 reasons to file your taxes every year
It is a common tendency for all of you to wait until April to file your taxes. While it is all fine as long as you file taxes, the earlier you do the better it is. Gone are the days when filing taxes was a difficult and tedious job.
Every year about 10 million taxpayers end up paying $130 on average for estimated tax penalties. Thus, filing and paying your taxes every year on time will help you avoid such penalties.
With several government initiatives and tools in place, it is easier to get through tax filing these days. Here are the top reasons why you should consider filing your taxes every year and at the earliest.
Faster Processing
It is advisable that you do not file close to the deadline. It only delays the processing and in turn, results in slowing down the entire process. You might also run into the risk of submitting while the servers are under heavy load, further slowing down the process. The file at the earliest for faster processing of returns.
Proper Documentation
While the complexity of filing returns has come down by a considerable margin, it is far from ideal. One can still get overwhelmed by the entire process. It is recommended that you start early so as to figure out of there are any additional documents that you might need to submit.
Faster Refunds
Taxpayers who file their taxes earlier are more likely to receive their entitled returns early. Since you file early, there won't be too many returns for the IRS staff to go through or process. And thus, they can complete them at the earliest.
Additional Time to Pay Taxes
Filing your taxes early will help you determine the amount that you have to pay to Uncle Sam. It must be noted that even though you can file your returns earlier, you do not actually have to pay any taxes till the 15th April deadline. This will allow you to plan your taxes better.
Avoid Extension
There are certain circumstances, where requesting an extension for your taxes is much needed. Consider this, a person was carrying all their tax documents to the office and they get stolen on the way. Or a person lost his/her house to fire, burning down all the documents in there. These are legitimate reasons for filing an extension. Others, not so much. Instead of opting for extension and slowing down the process, it is better to get it done at the earliest.
Better Help
If you need the services of any tax agents, the most reputed ones will most likely be booked closer to the deadlines. In the event that you file your taxes earlier, you can seek professional help without having to wait.
Financial Help
If you are looking to utilize the FAFSA or Free Application for Federal Student Aid either for yourself or for someone else in your family, it is recommended to do it at the earliest. The earlier you file your taxes, the better are your chances of receiving the maximum amount out of it. The aid is dependent on the most recently filed return.
Identity Theft
Every year a lot of taxpayers are victims of tax fraud. In the year 2014, about 3 million people reported the same. It usually takes place if you wait till the end to file your taxes.
Clear Things up
Filing taxes earlier gives you ample time to fix if something is wrong with your taxes. This is one of the simplest and most straight forward benefits of filing your taxes every year and on time.
Buying a House
Your mortgage provider would want to have a ton of supporting documents from your end. These include W2 form, bank statements, tax returns and so on. Thus another added advantage of filing your taxes every year.